STEM
We are working hard to promote science, technology, engineering and maths (STEM) education and the opportunities it opens to future generations.
Working in partnership with industry and external organisations, inspiring future talent is a key focus area for our teams. Whether this is directly through our own activities or through collaboration with others, we want to ensure everyone from school children, teachers and parents, to those who have already started their careers (within the energy industry and beyond) have access to the support and information they need.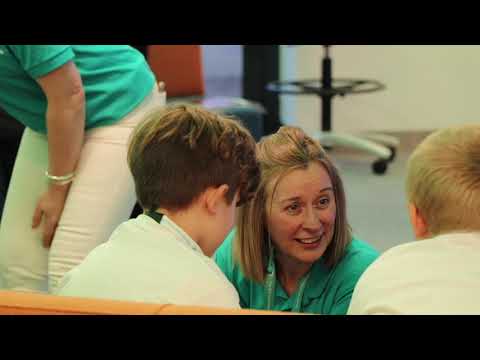 STEM: Lego League
Video

Education (STEM & Entrepreneurship)
To deliver our vision of a net zero north sea we need to stimulate new thinking and innovation at all levels. We want to create a vibrant region to live and work in, with opportunities for generations to come.
So, we are collaborating with regional bodies, schools and universities to promote more entrepreneurship and science, technology, engineering and maths (STEM) education and the opportunities it opens to future generations – ultimately creating a culture of innovation and entrepreneurial thinking.
Schools
To date, we have 13 STEM initiatives delivered or underway. These include: Primary Engineers, VEX Robotics, Lego League, Aberdeen Science Centre immersive reality, Career Ready, the STEM industry group and Energy Quest.
Our partnership projects include a 'train the teacher' programme, where we invite teachers into the Net Zero Technology Centre and give them the information and resources to be able go back into their schools and confidently introduce STEM related activities. This includes working with design and technology teachers across Aberdeen City and Shire to provide them with working knowledge of what STEM recruiters are looking for beyond qualifications. This empowers teachers to support pupils in creating their personal statements and CVs, using this insight to help them stand out in selection processes.
Working with Developing the Young Workforce (DYW) and Career Ready our staff regular mentor and support secondary pupils educating them on how entrepreneurship and STEM education relates to the working world and introducing them to a world of new and exciting opportunities.
Our Inspire20 series was designed to help demystify career paths and showcase some of our team and their journeys to where they are now.
Colleges and Universities
We regularly engage universities across the UK who provide insight and input to our road maps and also support  early stage research and development projects. Our TechX programme has also supported a number of university spin outs.
The Net Zero Technology Centre offers internship for university students to get some valuable experience of the working world during their summer breaks.
The centre's staff also regular lecture at universities to provide more insight into the journey to net zero and entrepreneurship as a viable and important option for university graduates.